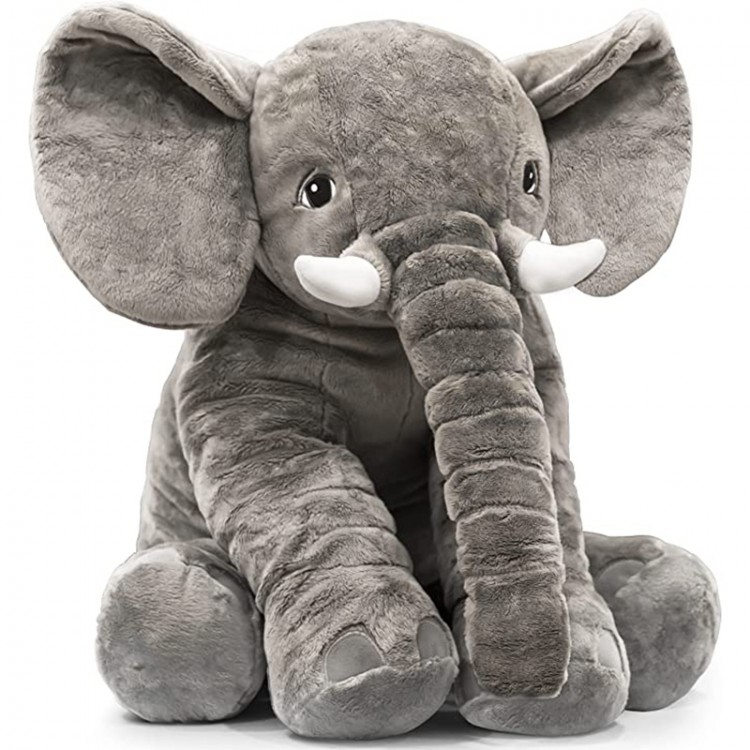 
Toyard Soft Toys Factory Big Stuffed Elephant Best Gift For Baby

We offer free sample, please contact us.
Brand: Toyard
Material: Plush
Color: Pink
Weight: 2.31 ounces
Size: 24 x 18 x 9 inch
Manufacturer recommended age: 3 years and up

Delivered by Amazon FBA Service
(3-7 days after order placed)
Big Stuffed Elephant
l Giant Size: 24 x 18 x 9 inches
l Good Touching: Our Plush Stuffed Animal Elephant's epidermis is made of breathable fabric. Medium length of fluff, and full of filling could provide you with the best touch that suitable for you to cuddle in arms or use it as a pillow.
l For Kids: Plush toys are always popular with children. Lovely and real "big" elephants can absolutely catch the eyes of children for the first time. Choose Plush elephants to give to children for Birthday,Thanksgiving Day , Christmas and baby shower party, accompany them to grow up and become their childhood partners with Homily Stuffed Animal .
l For Adult: Buy yourself a big stuffed animal elephant, which could make you feel secure and make you no longer spend a lot of time lonely especially when you watch a horror movie one night or have insomnia.
l Fun Plush Elephant Toy: Best bedtime gift plush toys for kids, adult, girlfriend, mom. Stuffed Animal for bedtime.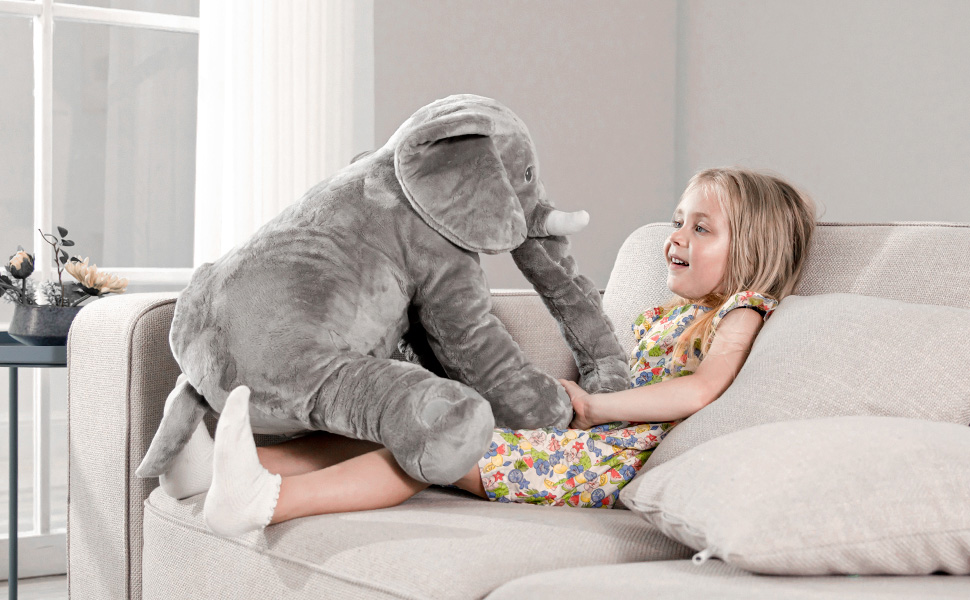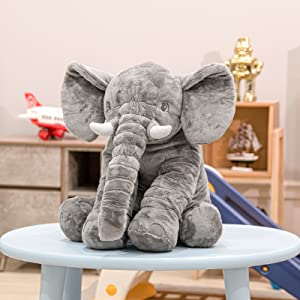 Hello everyone, I am a cute plush elephant, I have a plump filling and a soft body. Because of this, you will feel comfortable holding me. I want to make friends with you and do many things with you, such as sleeping, reading books, watching movies and so on.
Take me home, I can bring you a sense of security and dispel your unhappiness. If you give me to your friends or family, I believe they will also feel your love.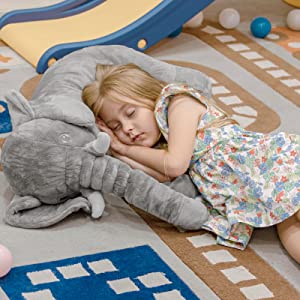 Baby Elephant Pillows
Toyard stuffed elephant pillow plush is made of crystal super soft fabric, silky and skin-friendly. Filled with pp cotton filler, high-quality. It is easy for the baby to fall asleep while holding it. The most important thing is that it is very safe, even children will not cause danger.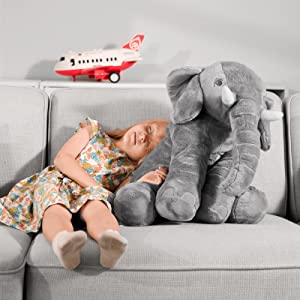 Best Friend
The design that the stuffed elephant can hug can soothe your children, and can also be used to decorate children's rooms. The elephant is very big and can accompany your child for a long time.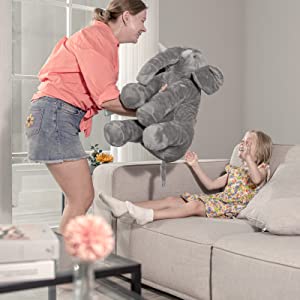 Wonderful Gift for Kids
Plush toys are always popular with children. Lovely and real "big" elephants can absolutely catch the eyes of children for the first time. It is a great gift for your child's birthday, Children's Day, Christmas, etc.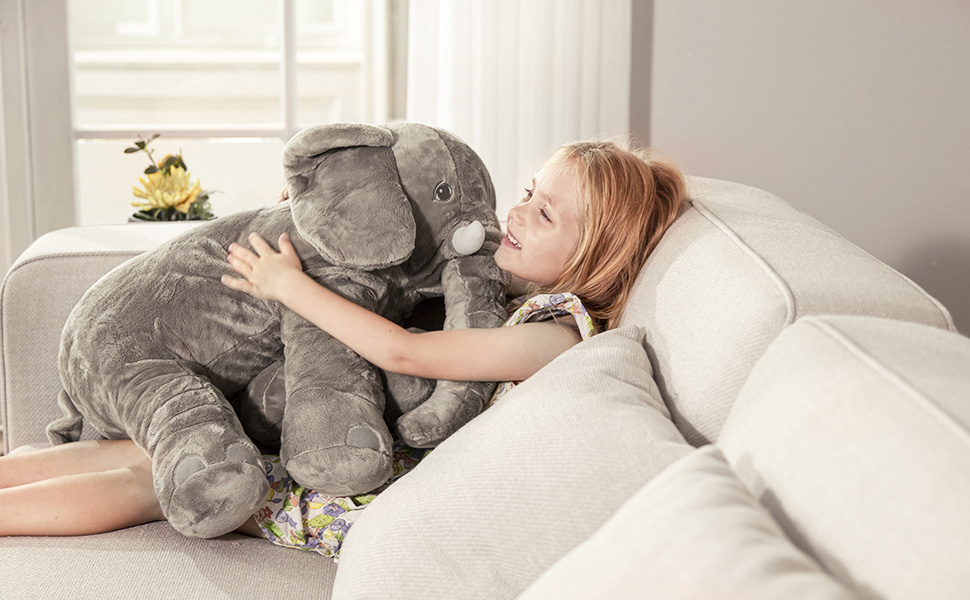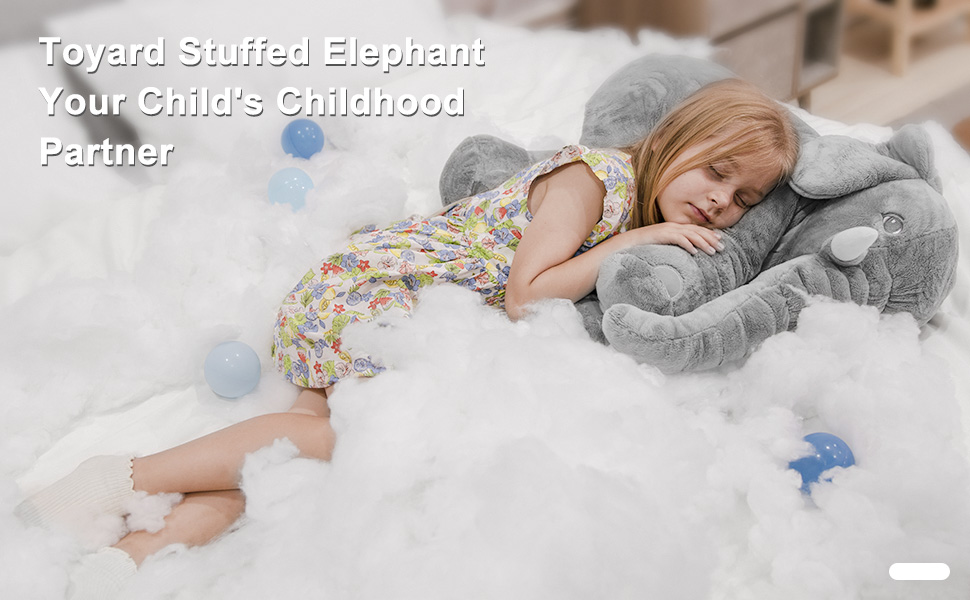 Choose Toyard plush elephant Stuffed animal toy to give to your children or yourself, let it have a good time with you, it will always accompany you, become your friends or family members.
https://youtu.be/MVJjuZcRyNM
Warm Note:
1. The elephant will come to you with being compressed into a lovely pink bag. You could take it out and shake it a few times or leave it in the ventilated place for a few hours and it will be back to normal and fluffy again.
2. Machine washing is not recommended. If you really want to machine wash, be sure to put it in a laundry bag and choose a light mode.
3. Hand washing is recommended, if the elephant is soiled a little, just wipe it with a hygienic towelette.
Here you can add custom original content(text, images, videos and more) for each product page.
Product Reviews / Q&A
Reviews (0)

All reviews (0)
Has image/video (0)
Excellent (0)
Good (0)
Medium (0)
Poor (0)
Terrible (0)

Latest
Oldest
High rating
Low rating
Helpful
1 other product in the same category:
Amazon's Best-selling Plush Toy(Patented) Superior Materials and Excellent Craftsmanship: Excellent sewing technology, tight and reliable...